July 16, 2017

A man with shades and a perfectly picked afro stands against a flat silver background. He is dressed in a Superman T-shirt. His muscular arms are folded in a painting as sharply defined as a medieval icon, yet as modern as his aviator shades. The canvas, from 1969, is highly stylised and irreducibly cool.
This is the self-portrait of Barkley L Hendricks, who died in April at the age of 72. Its visual double take – black man in white man's costume, and in his painterly tradition – is multiplied by the mordant title. Icon for My Man Superman (Superman Never Saved Any Black People – Bobby Seale) quotes a famous remark of the founder of the Black Panthers. But Hendricks has no need of Superman. He saves himself – hero of his own fiercely intelligent painting.
June 26, 2017
"Elaine, Let's Get the Hell Out of Here" at Nicelle Beauchene Gallery
This exhibition, an early candidate for the summer's most peculiarly titled group show, takes its name from an article that ran in the January 1971 issue of ARTnews: Elaine de Kooning's response to Linda Nochlin's famed essay "Why Have There Been No Great Women Artists?" De Kooning recalled being at a party with Joan Mitchell, where both were asked about their thoughts on "women artists." That's when Mitchell said, "Elaine, let's get the hell out of here." Curated by Ashton Cooper, this exhibition surveys, per a description, artists who have "an attitude of refusal." Abstraction, from both young and old artists, will play an important role. Mitchell, de Kooning, Molly Zuckerman-Hartung, Al Loving, and Sable Elyse Smith are among the artists in this show.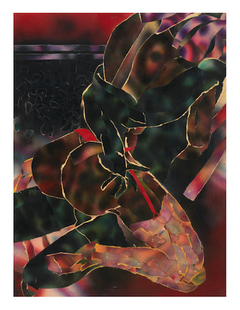 June 13, 2017

So voracious is the presence of the twelve works in this focused retrospective of Al Loving's work, set as they are against the inert framing of the white cube, that they might be better described by the activities that resulted in their making: stack, weave, layer, tear, cut, drip. The five works in the first gallery are essentially collages of interwoven spirals and grids, often brightly painted, glittered, and glossed to a gaudy, reflective shine. At once galactic and crafty, they push against orthodoxies of the medium, as they are without ground or matrix onto which the various elements are placed. In other words, they are all collage, with a happy excess of sinuous exposed edges. The largest of these works, Barbara in Spiral Heaven, 1989, carries traces of the artist's hard-edge paintings of the late 1960s and early 1970s, as well as his groundbreaking quilted canvas constructions of the mid- to late 1970s. When one realizes that each work in this gallery was made in 1989, they perform the visual equivalent of placing exclamation points at the end of a sentence. 1989!!! Al Loving!!!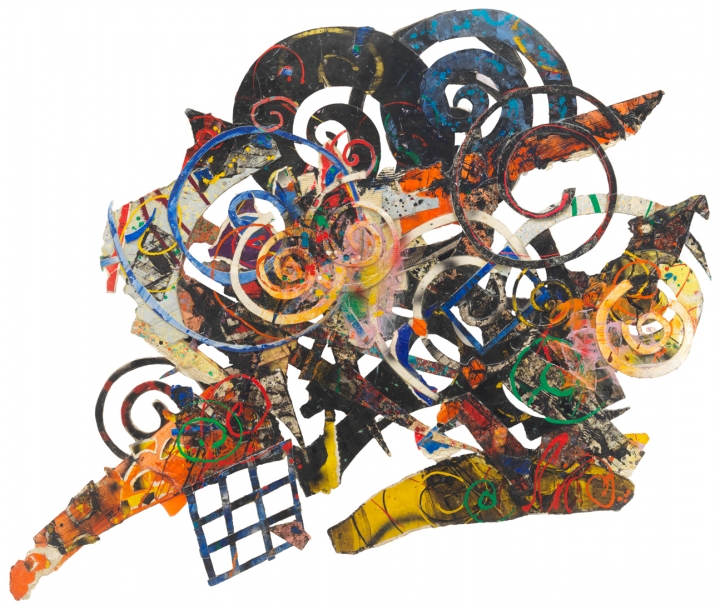 April 18, 2017

Spiral Play: Loving in the '80s opens this Saturday at Art + Practice and features 12 of Al Loving's three-dimensional collages.